3 min read
We were so excited to welcome in more than 400 changemakers tuning in from their desk, couch, outdoor patio or wherever they're calling 'work' nowadays for our first-ever all-virtual Engagement Excellence Live.
Throughout the day, attendees could bounce from room-to-room to hear sessions around our topic: Future Focussed: How HR changemakers are reshaping the world of work.
Kylie Green, Global SVP of Consulting at Reward Gateway started the morning talking about how HR leaders have been at the forefront of the response and support efforts for organisations around the world. Like anyone on a long journey, she urged leaders to use EnExLive as an opportunity to "stop, revive, survive". Kylie invited leaders looking to improve culture to use Reward Gateway's Employee Engagement Quadrant to identify employees within the business who needed connection and inspiration, and encouraged attendees to use the tips from the day's speakers to help them create Ambassadors.
Colin Ellis, Culture Change Specialist and Author of 'Culture Fix', brought his unbounded energy to the screen, with a passionate call to action for all HR leaders to revisit their current work practices and have the positive (but sometimes difficult!) conversations needed to encourage behaviour change and growth.
A familiar fixture at our Engagement Excellence Live events, Content Journalist, Joy Adan, gave practical takeaways for HR leaders to create and sustain momentum by cultivating a culture of growth. She also walked through how other organisations such as Healius, McDonald's, MNF Group, Henley Homes and TIMG have refined their focus in the last few months, to strengthen employee benefits, support employee wellbeing, encourage reward and recognition, and increase internal communications. She concluded her session with an illustration of key points: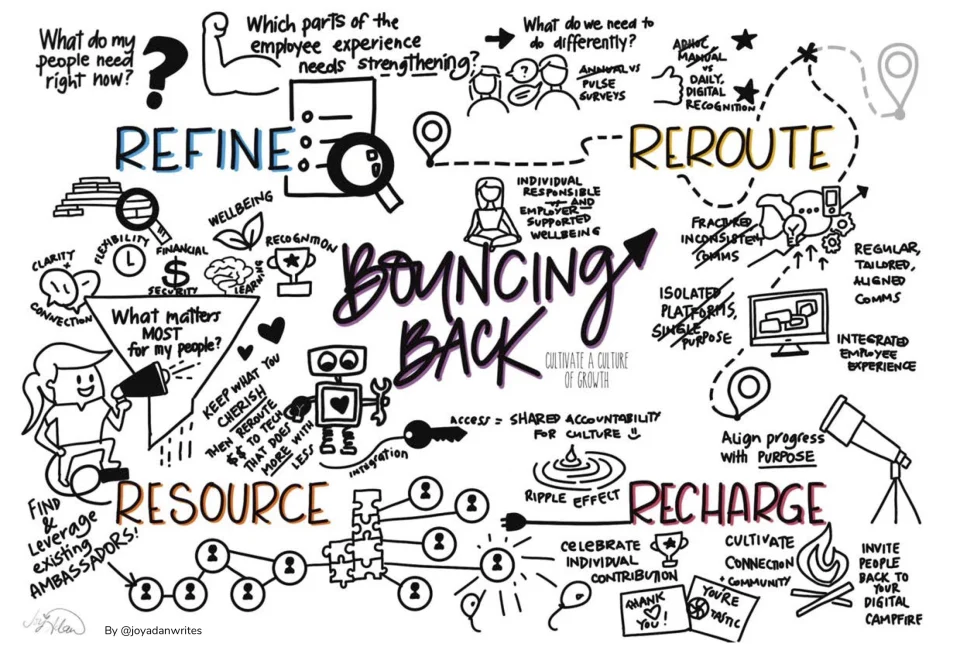 With plenty of HR changemakers at hand, it was the perfect setting for storytelling, especially as Merril Hotchkin, Head of People Performance and Cuture at Metricon shared her own practical tips and lessons learned during the COVID-19 pandemic to create sustainable initiatives for their people. Merril's team partnered with Mark Puncher of Employer Branding Australia to create this video to help connect and motivate their employees during lockdown:
And to share more inspiration and insight, Joy and Merril concluded the morning with a discussion joined by Joel Rethore, Group Head of Rewards, Performance & People Analytics at Healius, Simon Birch, Total Rewards Manager at Accenture, and, Mark Puncher, CEO of Employer at Employer Branding Australia.
We couldn't end the day without a fun, friendly competition - while we had loads of entrants in our social channels, only a few walked away the winners of our special prizes to show off how they were tuning into EnEx Live!
For more tips and tactics to help your organisation reset its employee engagement strategy in the next few months, check out our latest eBook by best-selling author and HR thought leader, Debra Corey, which you can take a look at below:
For a full recap of the event, including exclusive access to recordings and extra assets to help you on your journey, make sure to visit our Virtual Engagement Excellence hub.
We hope to see you next time - no matter where we might be, we're always excited to usher in new thought leadership and practical advice to help you in your path to Make the World a Better Place to Work!